Funding approved for Old School Room roof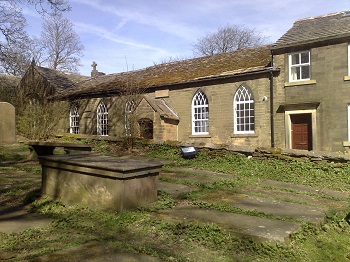 The above photograph appears by courtesy of Brontë Spirit.
The Brontë Spirit Charity, which is based in Haworth is set to undertake vital repairs to one of the village's landmark buildings thanks to a £44,873.00 grant from funding body WREN, a not-for-profit business that awards grants for community, biodiversity and heritage projects from funds donated through the Landfill Communities Fund.
The money, awarded by WREN's FCC Community Action Fund, will be used to repair the badly-leaking original roofs of the Old School Room situated adjacent to Haworth Church.
Mrs Averil Kenyon, chairman of The Brontë Spirit, believes the restored facility will make a huge difference to the lives of people living in the area.
Says Averil: "This project will provide a real boost to the people of Haworth and its visitors. It's fantastic that WREN has awarded us this money and we're really looking forward to completing the very necessary repairs to the roofs at the west-end of the building."
Penny Beaumont, WREN's grant manager for Yorkshire, says: "We're delighted to be supporting the Haworth Old School Room Roof Repair Works project and pleased our funding will make such a difference to so many groups of people across Haworth. WREN is always happy to consider grant applications for projects that benefit local communities and we're looking forward to this one having a positive impact very soon."
Situated alongside Haworth Parish Church and the Brontë Parsonage, the Old School Room is one of the most important historical buildings in the area. Built by Patrick Brontë in 1832 and taught at by all his famous children, it is an integral part of the Brontë landscape and story.
Since 2011 the Old School Room has been managed by a small charity, The Brontë Spirit, which is made up of local people whose aims are to conserve and maintain the building for future generations, and build on the building's current 184-year service to the community.
It is hoped that the repairs to the now time-expired Victorian roof will be completed before the start of next winter.
[N.B. Please mention the Eagle Intermedia Bronte Country website when making your enquiries.]
[News item based on material supplied by Brontë Spirit - May 2016.]
---
Bronte Country is designed, maintained and promoted by Eagle Intermedia Publishing Ltd.