A "curious" new brand arrives in Haworth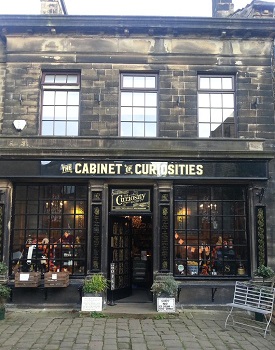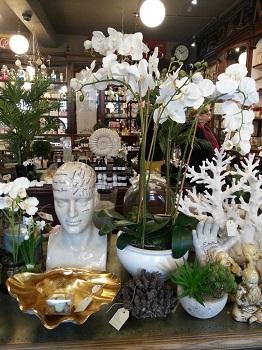 One of Haworth's flagship shops has undergone an exciting new "rebrand".
The old apothecary, situated at the top of main street opposite the church, is of course well known as once having been the druggist's house and shop where Branwell Bronte bought his laudenum. Renamed the "Cabinet of Curiosities", this beautiful world famous shop is now home to "The Curiosity Society" for travellers, seekers and finders…
Inspired by the "Cabinets of Curiosities", or "Wonder Rooms" of renaissance Europe which showcased historical relics and objects of natural history, geology and specimens of the natural world, The Curiosity Society is the brainchild of Patricia and Caroline Rose who together created the "Rose & Co." brand of luxury bath and beauty products, which is still distributed in the UK and around the world by Grafton International. Drawing on late nineteenth century styles with a touch of steampunk, the historic shop in Haworth was restored 30 years ago by Pat and Caroline with an incredible collection of antique chemist shop fittings.
Says Caroline: "This is an exciting new era for the shop. The old-fashioned medicines and hardware that we based the apothecary theme on when we created the shop all those years ago are proving harder and harder to find and it's time for a few changes in our offering - our 30th anniversary is the perfect time. The shop interior has been constantly improved with more and more cabinets added over the years alongside the magnificent Victorian drug-run that dominates the shop, the perfect home for a Cabinet of Curiosities."
The blended oils, creams and therapeutic bath powders for which the shop is renowned are still made in their workshop and can be found alongside botanical soaps, candles and a new range of extraordinary gifts. The Cabinet of Curiosities makes an eclectic addition to Haworth's diverse range of shops, and will no doubt excite the curiosity of visitors from far and wide!
For more information please visit The Curiosity Society's website at http://www.thecuriositysociety.com
[N.B. Please mention the Eagle Intermedia Bronte Country website when making your enquiries.
[News item based on information supplied by The Curiosity Society posted by Eagle Intermedia - October 2016.]
---
Bronte Country is designed, maintained and promoted by Eagle Intermedia Publishing Ltd.