The Apothecary Tea Rooms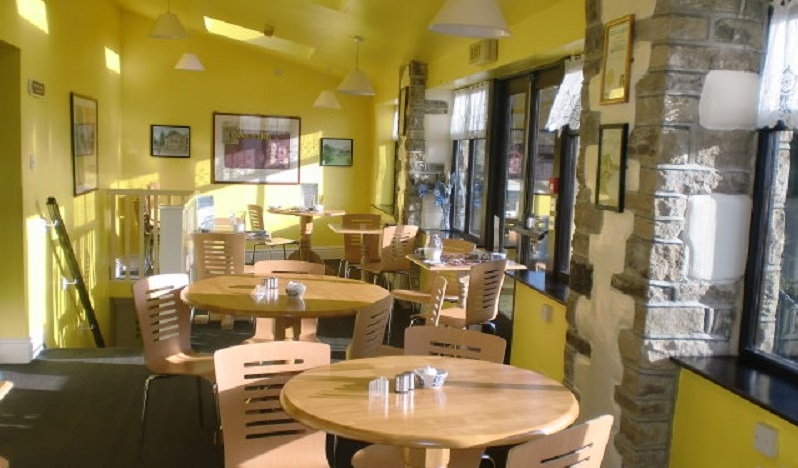 Situated in a historic 17th century building at the top of Haworth's famous Main Street, the Apothecary Tea Rooms has been serving traditional food and refreshments to visitors from around the world for nearly 30 years. One of the keys to the Apothecary's success is of course, its superb location: Directly opposite the Bronte church and the old parsonage (now the Bronte Museum) where the literary sisters grew up, it is set amongst a cluster of ancient buildings which the Brontes knew so well.
But location doesn't explain everything behind the Apothecary's 30 years in business. It was established by the Sisley family, whose relaxed informality brings a personal touch to their tea room. Alongside this, the family's commitment to quality has also meant that the Apothecary has always striven to develop and improve its facilities over the years.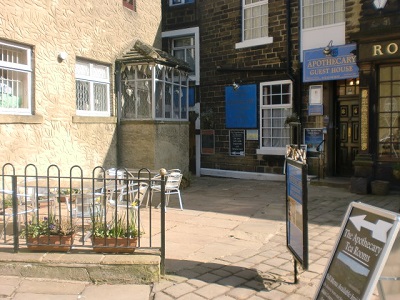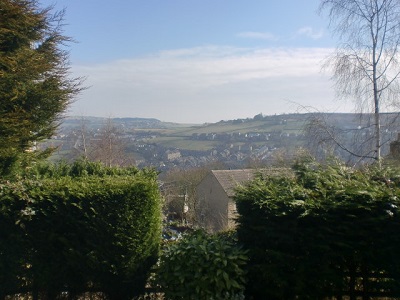 The tea room has spectacular views of the Worth Valley to the rear and atmospheric Main Street at the front. On warm summer days the garden and terrace are open as well as the patio to the front.
Menu
We offer traditional fayre, homemade soups, oven cooked jacket potatoes with tasty fillings, freshly prepared sandwiches served on bread that is fresh every day. We are famous for our filled Yorkshire puddings, the most popular being topside of roast beef served with a variety of traditional vegetables. Followed this with our selection of desserts and cakes.
We try to cater for all vegetarians and vegans alike. Families are very welcome and we always give families and large groups a 10% discount. Walkers and cyclists are also welcome and will also be entitled to a 10% discount.
Location
We are to be found at the top of Main Street Haworth opposite the church steps, stand with your back to the church look across the street and to the left and you will find us there. We are next to The Cabinet of Curiosities.
Contact details
The Apothecary Tea Rooms
86 Main Street
Haworth
West Yorkshire
BD22 8DP
United Kingdom

Telephone: UK 07967673313

Email: davidsisleye@aol.com

Follow us on Facebook for up to date news and special,offers.

We can cater for large groups so please call us.
If you're looking for somewhere to stay in Haworth, then why not try the Apothecary Guest House
We look forward to seeing you in the Apothecary Tea Rooms.