Manchester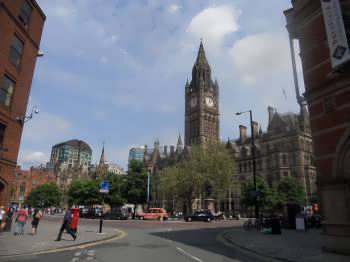 Some more views of Manchester
Manchester is a large industrial city in the Lancashire plains to the west of the Pennine Hills of Bronte Country and the Peak District national park.
Although the city itself is a sprawling urban metropolis it does lie within relatively easy reach of the wide open spaces of the Peak District, the wild Pennine moors and hills of Bronte Country and Lancashire's Pendle Witch Country, the beautiful Yorkshire Dales, Bowland and of course the English Lake District (which can be reached conveniently via the M6 motorway).
Bronte related attractions in the city include Elizabeth Gaskell's house on Plymouth Grove. The novelist was Charlotte Bronte's friend and biographer, and Charlotte stayed at the house (which was also visited by Charles Dickens and John Ruskin).
Accommodation in and around Manchester
Other Manchester and Manchester Airport related websites:
For more information about the Manchester area and Manchester Airport, please consult the following externally maintained websites, books and other products:
[N.B. Please mention the Eagle Intermedia Bronte Country website when making your enquiries.]
IMPORTANT: The above links may refer to external websites whose content and services are not necessarily recommended or endorsed by Eagle Intermedia.
---
Bronte Country is designed, maintained and promoted by Eagle Intermedia Publishing Ltd.