The following information and photograph has been supplied by Kirklees Council Museum and Galleries Service:
Oakwell Hall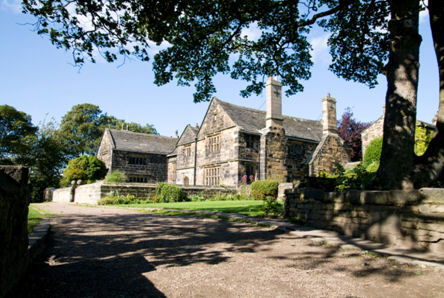 Oakwell Hall was built as an Elizabethan manor house in 1583 and is now furnished as a family home in the 1690s, offering visitors a real insight into a post English Civil War household. The Hall is set in a beautiful Green Flag award winning Country Park with delightful period gardens, a nature trail, café, shop and play area.
A boarding school was in residence when Charlotte Brontë visited in the 1830s. She had been a pupil at Roe Head School near Mirfield, where she made two very close friends: Ellen Nussey of Birstall and Mary Taylor of Gomersal. At the time of Charlotte's visits, Ellen Nussey's cousins - Hannah Cockhill and her daughters - ran a girls' school on the premises and it would seem likely that Charlotte visited with Ellen. The visits obviously made a strong impression on Charlotte and in her novel "Shirley", Oakwell Hall became "Fieldhead" - the home of the heroine. 'If Fieldhead had few other merits as a building,' she wrote, 'it might at least be termed picturesque, its irregular architecture and the grey and mossy colouring communicated by time, gave it a just claim to this epithet. The old latticed windows, the stone porch, the walls, the roof, the chimney stacks were rich in crayon touches and sepia lights and shades.'
Nine consecutive Green Flag Awards
Sandford Award for Heritage Education
Visit England Quality Assured Visitor Attraction 2011, 2012 & 2013
Yorkshire in Bloom Gold Award 2012 & Silver Gilt Award 2011 & 2010
In nearby Gomersal is Red House - which provided the inspiration for "Briarmains" in the novel "Shirley".
Opening Times and Admission
Summer Opening Hours (1st March – 31st October 2016):
Open: Tuesday to Thursday from 11 a.m. to 5 p.m. Saturday & Sunday from 12 noon to 5 p.m.
Closed: Mondays and Fridays
Admission charge:
Adults £2.50
Children £1.00
Family £6.00
There is also an excellent value Joint Annual Ticket offering unlimited admission for one year to both Red House and Oakwell Hall costing just:
Adults £6.00
Children £2.50
Family £14.50
The Country Park is open every day of the year.
For further information and group booking enquiries, please contact:
Oakwell Hall
Nutter Lane
Birstall
Batley
WF17 9LG

Tel: +44 (0)1274 326240
Internet details:
[Please mention the Eagle Intermedia Bronte Country website when making your enquiries.]
Oakwell Hall is owned and maintained by Kirklees Council, and the above information has been supplied by Kirklees Council Museums and Galleries Service.
Information about Oakwell Hall can also be found on the Friends of Oakwell Hall website at www.friendsofoakwellhall.org.uk
---
The Bronte Country website is owned, operated and promoted by Eagle Intermedia Publishing Ltd.