Denholme Gate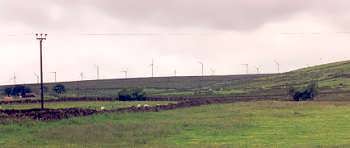 Denholme Gate is the name given to the southern end of Denholme where the road from Thornton, meets the main A629 route from Halifax to Keighley.
Probably the most notable feature of the landscape here is the large wind farm at Ovenden Moor, where a large array of turbines harness the power of the winds sweeping across the Pennine hills, generating "clean" electricity for the National Grid. Being one of the largest wind farms in the country, the gleaming white rotors of these modern-day windmills can be seen from vantage points many miles away, and are an important feature of the Bradford district skyline.
Accommodation in and around Denholme
[N.B. Please mention the Bronte Country website when making your enquiries.]
IMPORTANT: The above links may refer to external websites whose content, products and/or services are not necessarily recommended or endorsed by Eagle Intermedia.
---
Bronte Country is designed, maintained and promoted by Eagle Intermedia Publishing Ltd.