Hebden Bridge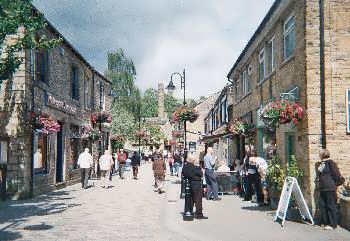 Some more views of Hebden Bridge
Hebden Bridge is a Pennine town which is situated in Calderdale just over the moors to the south of Haworth in the heart of West Yorkshire's Bronte Country .
Local attractions include deep wooded glens such as at Hardcastle Crags and Crimsworth Dean. Above these valleys lie the wild windswept moors which inspired the Brontes and for which this area of the Pennines is famous.
Nearby are the Pennine towns of Sowerby Bridge and Halifax, (both of which have connections with the Brontes), and also Mytholmroyd (famous as the birthplace of the poet Ted Hughes).
Overlooking Hebden Bridge is the hilltop village of Heptonstall (where Hughes' wife Sylvia Plath is buried). Also overlooking Hebden Bridge is Stoodley Pike, the war memorial at the summit of which serves as a viewpoint on the moors above the town.
The Rochdale Canal passes through Hebden Bridge, en route between Sowerby Bridge and Manchester.
The Pennine Way long distance footpath also passes near Hebden Bridge - en route from its starting point at Edale in the Derbyshire Peak District to Kirk Yetholm in Scotland, a trek of about 250 miles.
[N.B. Please click here for more information about the Pennine Way in Bronte Country .]
Accommodation in and around Hebden Bridge
Shops and businesses in and around Hebden Bridge and the surrounding area
More information about Hebden Bridge and the surrounding area
Other (externally maintained) websites containing information about Hebden Bridge include the following:
IMPORTANT: The above links may refer to external websites whose content, products and/or services are not necessarily recommended or endorsed by Eagle Intermedia.
[N.B. Please mention the Eagle Intermedia Bronte Country website when making your enquiries.]
---
Bronte Country is designed, maintained and promoted by Eagle Intermedia Publishing Ltd.