Sue Ryder announces "Le Camping" fundraising accommodation for Tour de France in Bronte Country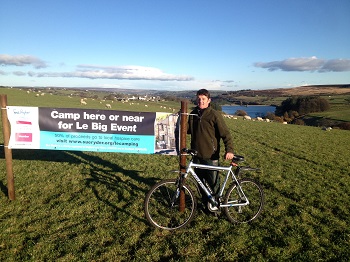 The above photograph appears by courtesy of Sue Ryder
Generous farmers have teamed up with Sue Ryder's Manorlands Hospice in Oxenhope to provide camp sites and parking hubs for when the Grand Depart of the Tour de France visits Bronte Country in July 2014.
Sue Ryder has teamed up with several different farmers who farm close to the route to provide camp sites in Stanbury, Addingham, Haworth, Oxenhope and Cullingworth on the outskirts of Bradford.
Sue Ryder Regional Fundraiser, farmer's son and former Chairman of Yorkshire Federation of Young Farmers Clubs Andrew Wood is heading up the project. Says Andrew: "We've heard that millions of people are heading to Yorkshire next summer for this fantastic event. Most accommodation is in the cities but most of the cycling enthusiasts want to be out in the countryside so by working with farmers we're hoping to benefit the public, farmers, the rural economy and raise funds for Sue Ryder's incredible care within Yorkshire."
One of the landowners, Miles Greenwood, sheep farmer from Stanbury near Keighley explained: "We were thinking of setting up a camp site for the weekend that the tour comes past the farm gate but it's something we've never done before and we weren't sure about how to market it, ticket it and deal with the local council regulations. When Sue Ryder approached us offering to do all that if we could share the proceeds it seemed like a win win situation for a great cause."
Andrew added: "There is a common misconception that farmers are 'tight' (sic) but with a good cause and an interesting idea in front of them, farmers are some of the most generous people we come across, some have even offered to give 100% of the camping income from this one off event."
Eagle Intermedia is also supporting the charity initiative by including complimentary listings on the camping accommodation section of the main Bronte Country website as well as the separate accommodation section of the Bronte Country Haworth Village site.
To see more details about the sites in this project please visit http://www.sueryder.org/lecamping If you are a land owner and would like to get involved please contact Andrew.wood@sueryder.org
[N.B. Please mention the Eagle Intermedia Bronte Country website when making your enquiries.]
[News item based on press release supplied by Andrew Wood of Sue Ryder - January 2014.]
---
Bronte Country is designed, maintained and promoted by Eagle Intermedia Publishing Ltd.