Ribbon Circus reopens as Hebden Bridge bounces back from floods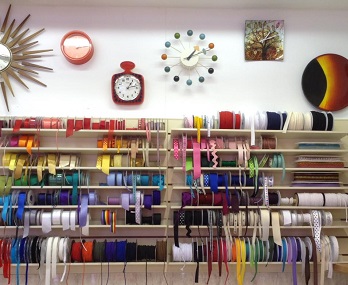 The above photograph appears by courtesy of Ribbon Circus.
Only two months after the devastating floods which hit Calderdale and other parts of the Bronte Country area in December 2015, Ribbon Circus (along with many other shops in Hebden Bridge) is now open again for business !
Despite having its premises flooded out in the Boxing Day floods of 2015 the popular haberdashery kept running its online store and several "pop up" shops while being refurbished, and was officially re-opened on Saturday 26th February 2016.
Says Helen (one of the owners of Ribbon Circus): "Without the generous support of customers, friends and strangers alike we would never have got the shop back up and running. We are so grateful for all the help we've received and send a great big thank you to everyone."
"To say thanks and we're back we want to teach as many people as possible to knit and crochet so if you have the urge to learn, please get in contact with the shop and we'll arrange a free lesson, but hurry we may run out of energy by June."
For more information please visit the Ribbon Circus website at http://www.ribboncircus.com
[N.B. Please mention the Eagle Intermedia Bronte Country website when making your enquiries.]
[News item posted by Eagle Intermedia - February 2016.]
---
Bronte Country is designed, maintained and promoted by Eagle Intermedia Publishing Ltd.