New partner announced for Bronte Sportive in 2019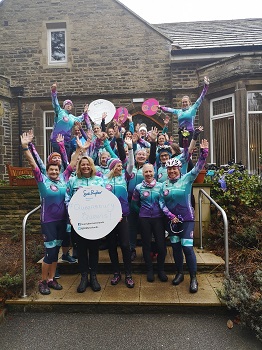 The above photograph appears by courtesy of Sue Ryder
The Sue Ryder Manorlands hospice has unveiled a new partner for their Bronte Sportive bike ride which is scheduled to take place on 21st July 2019.
Joining long term partner All Terrain Cycles is the Queensbury Queens of the Mountain Cycling Club which recently selected Sue Ryder as their charity of the year for 2019. This large club of ladies riders will help to promote the event, assist on the day and also participate in the challenging but stunning sportive with its choice of four rides.
One of the reasons that the Queensbury Queens chose to support Sue Ryder for the coming year was that they recently cared for Chris Mitchell, the husband of club member Miki Mitchell. Chris sadly passed away in October but his family and friends we so inspired by the care provided that they wanted to give a real boost to one of their fundraising events in 2019.
Within hours of Chris's passing Miki arrived into the Manorlands fundraising office and explained that she was a 'doing person' and determined to do something in Chris's memory that would repay the hospice for the wonderful care that he and she had been provided. With her love of cycling, the challenge of taking the Bronte Sportive to the next level was something that Miki jumped at the chance of getting involved with.
In a tribute to Chris, a new element will be incorporated into this year's Bronte Sportive, the Chris Mitchell Hill Climb Challenge. This event will test all riders in Haworth as they climb from Bridgehouse Lane, past the Sue Ryder shop and up the village's famous Main Street. Miki is already persuading friends family and everyone she meets to sign up to one of the four routes that comprise the event, all of which incorporate the hill climb which she is delighted with. As she explained "Chris would have been so pleased at having the hill climb in his name. Especially as we were given excellent help, counselling and care at Manorlands. Sue Ryder enabled Chris to pass away at home with his family around him surrounded by love. For this we are eternally grateful."
Sue Ryder Community Fundraising Manager Andrew Wood is looking forward to the event. He said: "We are delighted to have Miki and her friends at the Queensbury Queens of the Mountain club involved this year as we think they will make it very special. They recently visited the hospice for our launch photo and if their enthusiasm is anything to go by we could be in for a record year of entries!"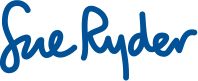 People can sign up to the Bronte Sportive at http://www.sueryder.org/brontesportive or register their interest on the Facebook event page at facebook.com/events/558558691326283/
[N.B. Please mention the Eagle Intermedia Bronte Country website when making your enquiries.]
[News item based on press release supplied by Sue Ryder - December 2018.]
---
Bronte Country is designed, maintained and promoted by Eagle Intermedia Publishing Ltd.