Bronte Society celebrates 120th anniversary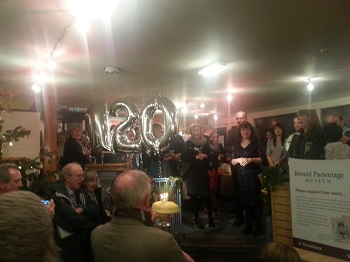 On the evening of Monday 16th December 2013 the Bronte Society held a special reception at the Bronte Parsonage Museum in Haworth to celebrate the 120th anniversary of the society's original foundation back in 1893.
The event involved readings from the Brontes' novels in the parsonage followed by Christmas carols and then Bronte readings with a festive theme from Executive Director Ann Sumner, and Chair Sally McDonald.
The Bronte Society itself was originally founded at a meeting which took place in Bradford on 16th December 1893, presided over the then headmaster of Bradford Grammar School, the Reverend W. H. Keely.
The society was initially run from a small museum on Haworth's main street, but in 1928 Sir James Roberts presented the parsonage building to the society, which has been used as the Bronte Parsonage Museum and main base of the society ever since.
Today the Bronte Society has thousands of members all over the world, and had links with the Bronte Country website since the early days of its foundation in the 1990s.
[News item (based in part by information supplied by the Bronte Society) posted by Eagle Intermedia December 2013.]
---
Bronte Country is designed, maintained and promoted by Eagle Intermedia Publishing Ltd.