This site uses cookies. Please click here for further information.
Bradford - City of Culture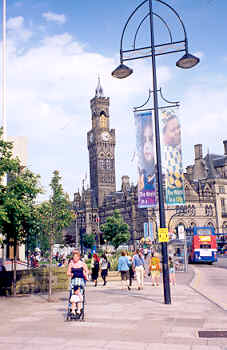 Inspired by a rich and diverse cultural history the City of Bradford in the heart of West Yorkshire's Bronte Country has been awarded the title of the UK's "City of Culture" for 2025.
Having produced many famous authors (from the Bronte sisters to J.B. Priestley and more contemporary writers such as John Braine, classical composers such as Delius, singers and musicians such as Kiki Dee, Tasmin Archer, Gareth Gates and Kimberley Walsh of Girls' Aloud, groups such as Black Lace (famous for their novelty party hit "Agadoo"), Smokie ("Living Next Door to Alice") and Terrorvision ("Tequila!") the illusionist Dynamo and of course David Hockney (arguably the world's greatest living artist), the City of Bradford has of course already made significant contributions to the literary, musical and visual arts at the local, national and international level.
Being home to Britain's National Science and Media Museum, the Peace Museum and the Bronte Birthplace in Thornton (besides a wide range of other museums, art galleries and theatres), the city has much to offer the eager "culture vulture" - whether interested in the historical perspective or a more contemporary theme.
Special events held on a regular basis include the The Bradford Dragon Boat Festival, the Bradford Festival, the Bradford Literature Festival, the Bradford Science Festival, the Ilkley Literature Festival (which is held in nearby Ilkley), the Bingley Show, the Saltaire Festival, the Saltaire Arts Trail, the Bradford Mela and the World Curry Festival,.

For more information about the city's plans for 2025 please visit the Bradford 2025 website.
[N.B. Please mention the Eagle Intermedia Bronte Country website when making your enquiries.]
Other Bradford district websites and arts related web pages
[N.B. Please mention the Eagle Intermedia Bronte Country website when making your enquiries.]
The Bronte Country website is designed and maintained by Eagle Intermedia Publishing Ltd.