Oxenhope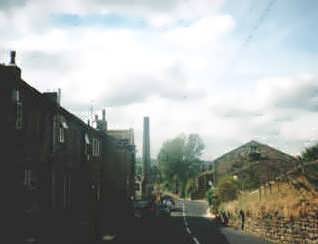 Oxenhope is a village near to Haworth in West Yorkshire's Bronte Country .
Oxenhope is the terminus of the
Keighley and Worth Valley Railway
, an authentic steam railway which runs along the valley to
Haworth
and on down to
Keighley
.
Immediately above the village is the hamlet of Leeming, and Leeming Reservoir.
Oxenhope is also famous for hosting the
Oxenhope Straw Race
- a charity event which supports the local
Sue Ryder Manorlands hospice
and which usually takes place sometime in July.
Other Oxenhope websites
The following (externally maintained) Oxenhope related websites may also be of interest:
[N.B. Please mention the Eagle Intermedia Bronte Country website when making your enquiries.]
IMPORTANT: Please note that links and text may refer to web pages which are maintained elsewhere (i.e. not on the Bronte Country website). The information listed on these external sites (as well any descriptive text included above) are supplied by external third parties whose products and services are independent of, and not necessarily endorsed by Eagle Intermedia Publishing Ltd. Please read the copyright notice and disclaimer for further details.
---
Bronte Country
is designed, maintained and promoted by
Eagle Intermedia Publishing Ltd.