Ponden Kirk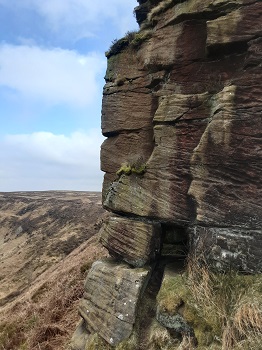 Ponden Kirk is a rocky outcrop overlooking the head of Ponden Clough near the village of Stanbury
The location was known to the Brontes, and is believed that Ponden Kirk served as the inspiration for Penistone Crag in Emily Bronte's Wuthering Heights.
A cleft in the rock can be clambered through, and some maintain that this may be the "Fairy Cave" as referred to in the novel. [N.B. Another possible candidate for the inspiration of the "Fairy Cave" is Yordas' Cave near Ingleton; being an actual cave (rather than just a hole in a rock) this might seem a more plausible contender..]
---
Bronte Country is designed, maintained and promoted by Eagle Intermedia Publishing Ltd.