Local stone auction to help build hospice funds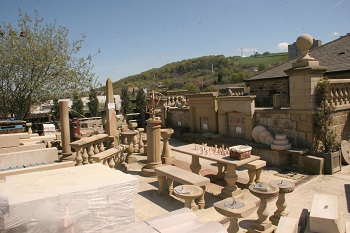 The above photograph appears by courtesy of Sue Ryder
A live online auction of almost 200 lots of top quality stone sculptures and masonry is up and running with the Manorlands hospice set to benefit from 15% of the monies accrued.
The items are all displayed in the yard of M&G Stone in Keighley and viewing is available ahead of the final day for bidding on 12th September 2018.
A fundraiser from Sue Ryder (which runs the Manorlands hospice) has ha an advance preview of the items - which include a with range of stone products, barrels, garden ornaments and even a laithe! He said: "These are quality products made by master craftsmen from the finest quality Yorkshire Stone. If the auction goes as we all hope then it will result in a major contribution towards the costs of the care we provide. I'd like to thank Garry and Sam at M&G Stone for their generosity and for putting in such efforts to present the items so well."
You can view information about the lots and bid online at https://www.eddisons.com/online-auctions#!/auction-catalogues/eddisons/catalogue-id-eddiso10325
[N.B. Please mention the Eagle Intermedia Bronte Country website when making your enquiries.]
[News item based on press release supplied by Sue Ryder - August 2018.]
---
Bronte Country is designed, maintained and promoted by Eagle Intermedia Publishing Ltd.