The Keighley and Worth Valley Railway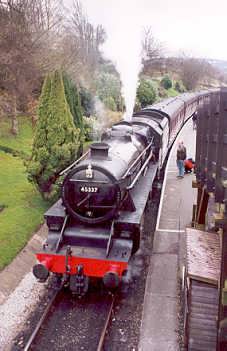 More views of the KWVR
The Keighley and Worth Valley Railway (KWVR) is an authentic heritage steam railway which runs through the heart of West Yorkshire's Bronte Country from the village of Oxenhope to Haworth, and then on down the Worth Valley to Oakworth, Damems and Ingrow West to the town of Keighley in the Aire Valley.
Lovingly preserved, the KWVR line was used in the 1970 classic film version of E.E. Nesbitt's "The Railway Children" (starring Jenny Agutter, Sally Thomsett and Bernard Cribbins), and has also been used in countless other TV and cinema period dramas including "Yanks" (starring Richard Gere and Vanessa Redgrave), and Alan Parker's film version of Pink Floyd's "The Wall" (starring Bob Geldof).
Popular events held on the railway include the Worth Valley Beer and Music Festival (which usually takes place in October).
More information about the KWVR and other steam railways
For more information about the KWVR, steam railways and railways in general please visit the following (externally maintained) websites:
IMPORTANT: The above links may refer to external websites whose content, products and/or services are not necessarily recommended or endorsed by Eagle Intermedia.
[N.B. Please mention the Eagle Intermedia Bronte Country website when making your enquiries.]
---
Bronte Country is designed, maintained and promoted by Eagle Intermedia Publishing Ltd.