Bronte Country website celebrates 25th anniversary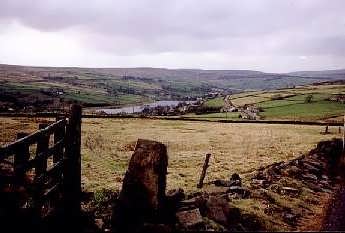 February 2022 sees the Eagle Intermedia Bronte Country website celebrate twenty five years of promoting the Bronte Country area of the West Yorkshire and East Lancashire Pennines.
Launched back in February 1997, the Bronte Country website was originally set up by Bradford based Internet marketing consultancy Eagle Intermedia Publishing Ltd. as an initiative to help promote the Bronte Birthplace and its environs in Thornton on the outskirts of Bradford.
The site quickly expanded to include information about Haworth, Bradford, Saltaire, Kirklees and Calderdale, as well as other places in the West Yorkshire and East Lancashire Pennines having associations with the Brontes. The area was of course already world famous for its literary connections, but the Internet has proved a highly effective medium for communicating interest and helping visitors plan their travel arrangements from within the UK and abroad.
Over the first quarter of a century of its operation the Bronte Country website has attracted a multitude of visitors from all over the world and has (along with Eagle Intermedia's other Yorkshire tourist information sites) no doubt made a significant contribution in supporting Yorkshire's tourism economy (including helping local businesss through the recent COVID19 coronavirus pandemic, during which time clients were given free advertising to maintain their profile through the most difficult periods of lockdown).
The effectiveness of this kind of promotion is well understood by the Bronte Country website's supporters, which currently include guest houses and self-catering holiday cottage agencies operating in the area.
Says David Sisley of the Apothecary Guest House in Haworth: "The Apothecary Guest House in Haworth has been advertising on the Eagle Intermedia Bronte Country websites for almost nineteen years now, and we are delighted with the bookings and interest we have received since first joining the site way back in May 2003. Booking have increased, and we are receiving enquiries from all over the world because of our listings. Congratulations on the 25th anniversary – and looking forward to seeing how the site develops over the years to come!"
Besides promoting accommodation the Bronte Country website provides access to information on places to visit, places to eat and drink, events, how to get there, and even property for sale in the area. With links to related community organisations and charities in the area the Bronte Country website also provides access to information of interest to locals as well as visitors from outside the area planning their trips from afar.
Using a similar business model as for Bronte Country Eagle Intermedia has also gone on to develop similar sites dealing with other areas of Yorkshire, including the Yorkshire Dales, the North York Moors, and the Yorkshire Coast.
For more information please contact Eagle Intermedia.
[News item posted by Eagle Intermedia February 2022.]
---
Bronte Country is designed, maintained and promoted by Eagle Intermedia Publishing Ltd.