Flying Scotsman visits Bronte Country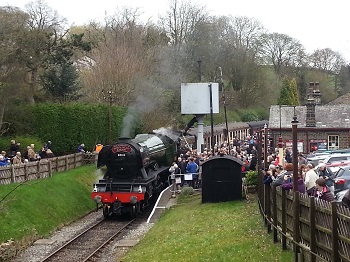 Following on from a successful visit to the Yorkshire Dales the Flying Scotsman - probably the world's most famous locomotive - steamed onwards to the Keighley and Worth Valley Railway for a special guest visit to Bronte Country.
For the first week in April 2017 the Flying Scotsman ran special trains along the line, and to celebrate the occasion Eagle Intermedia held a special raffle for tickets to raise funds for the Bradford and Airedale Eyesight Trust (a local charity which supports NHS departments in the Bradford and Aire Valley area of Bronte Country).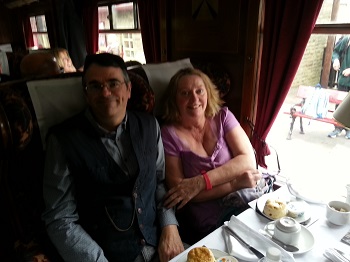 The raffle was won by Gillian Mawson, wartime historian and author of "Guernsey Evacuees
" and "Britain's Wartime Evacuees
". Gillian and her husband enjoyed afternoon tea and cake in a special Pullman carriage hauled by the Flying Scotsman locomotive along the Keighley and Worth Valley line.


The Bradford and Airedale Eyesight Trust
The raffle ticket sale is obviously now closed, but you can still make a donation to the Bradford and Airedale Eyesight Trust via the Bradford and Airedale Eyesight Trust website at http://www.eyesight-trust.com/make-a-donation
[N.B. Please mention the Eagle Intermedia Bronte Country website when making any enquiries and/or donations.]
For more information about steam railways in Yorkshire and the north of England please visit the Eagle Intermedia Steam and Railway Links website.
[News item posted by Eagle Intermedia April 2017.]
---
Bronte Country is designed, maintained and promoted by Eagle Intermedia Publishing Ltd.