Haworth goes back to the 1840s for BBC drama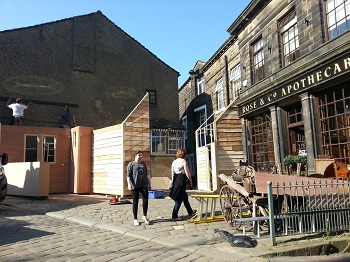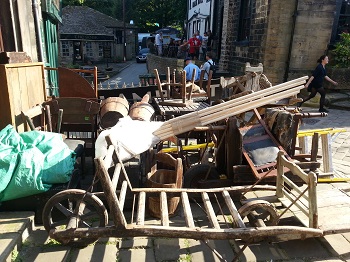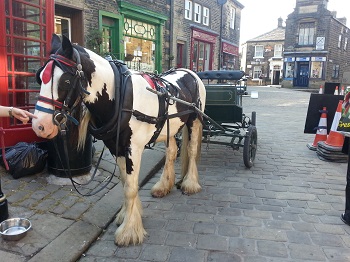 With its annual 1940s and 1960s weekends the village of Haworth is well familiar with the idea of staging historical re-enactments.
However in early June 2016 a very special reconstruction took place in the village, with the clock being turned back to the 1840s for the filming of a new BBC drama about the Brontes called "To Walk Invisible".
"To Walk Invisible" has been written by local playwright Sally Wainwright (who is of course famous for the TV dramas "Happy Valley" and "Last Tango in Halifax" - both of which were also set and filmed in the Bronte Country area), and focuses on the Bronte sisters' relationship with their troubled brother Branwell.
Authenticity and attention to detail is a key part of the production, and to this end the crew had already constructed an astonishingly accurate replica of the parsonage on Penistone Hill. In the village itself the main street underwent extensive (but temporary) alterations, with new structures being added to disguise modern alterations and hide anything that could betray an 1840s setting for the filming.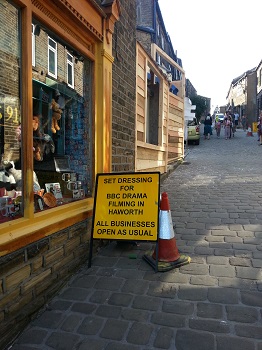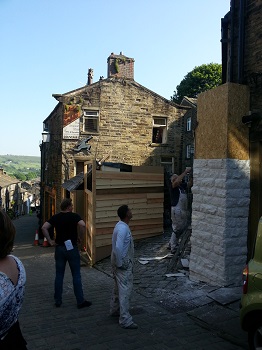 During filming the main street was closed to the public, though before the period dressings were dismantled there was a rare opportunity for visitors to see how the village would have looked in the 1840s at the time of the Brontes.
[News item posted by Eagle Intermedia - June 2016.]
---
Bronte Country is designed, maintained and promoted by Eagle Intermedia Publishing Ltd.