Pendle Hill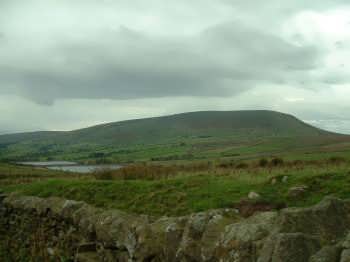 Pendle Hill dominates the skyline of Pendle and the Ribble Valley areas of East Lancashire.
Having associations with witchcraft and the Witches of Pendle, Pendle Hill and its surroundings might offer an appropriate setting to devour a ghastly autumn feast in anticipation of Hallowe'en.
Pendle Hill is also famous as being the site of George Fox's revelation and his subsequent founding of the Quaker movement, and also Richard Towneley's celebrated barometer experiment - where the important discovery that atmospheric pressure decreases with altitude was first made.
Villages on the slopes of Pendle Hill include Barley, Sabden and Downham. There is also a road which passes over the shoulder of the hill to the west, reaching its highest point at a place called the Nick of Pendle, from where it is possible to enjoy fine views without having to climb to the summit.
Just below the Nick of Pendle is a dry ski slope, now famous for having been a place where the British Olympic skier Dave Ryding learned at least some of the skills of his trade.
---
Bronte Country is designed, maintained and promoted by Eagle Intermedia Publishing Ltd.