"To Walk Invisible" previews in Hebden Bridge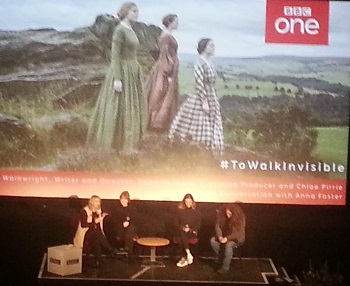 The BBC's latest drama about the Brontes, "To Walk Invisible" (which was filmed in Haworth earlier in the year) was previewed at the Hebden Bridge Picture House on the evening of 13th December 2016.
"To Walk Invisible" was written and directed by local playwright Sally Wainwright (who is of course famous for the TV dramas "Happy Valley" and "Last Tango in Halifax" - both of which were also set and filmed in the Bronte Country area), and focuses on the Bronte sisters' relationship with their troubled brother Branwell at a time of their lives while they were also coming to terms with their own success as writers.
Following the preview screening there was a panel session with Sally Wainwright and members of the BBC production team answering questions from the audience, which included Bronte enthusiasts as well as representatives of the community in Haworth and the wider Bronte Country area.
The film is both visually and dramatically stunning (the recreations of Haworth in the 1840s being particularly impressive) and was very well received by the local audience. Needless to say it will be a big hit when it airs to the wider public later in the month !
"To Walk Invisible" is scheduled to be shown on TV in the UK on 29th December 2016.
[News item posted by Eagle Intermedia - December 2016.]
---
Bronte Country is designed, maintained and promoted by Eagle Intermedia Publishing Ltd.