"To Walk Invisible" boosts visits to Bronte Country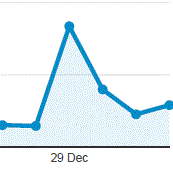 A massive surge in traffic to the Bronte Country website has been seen following the screening of "To Walk Invisible" on UK TV on 29th December 2016.
The BBC drama (which was filmed in Haworth earlier in the year and previewed in Hebden Bridge on 13th December 2016) was aired nationally in the UK on BBC One at 21:00 on 29th December 2016.
Clear spikes in traffic to both the main Bronte Country website and the Haworth village site were observed at that time, and it is likely that these were generated by Internet users looking up information about places they had seen in the film.
Surges in traffic to the Bronte Country and Haworth village sites are usually observed whenever TV dramas or documentaries are screened about the Brontes and the Bronte Country area, though those observed on 29th December 2016 were larger than most.
Increased footfall was also seen "on the ground" in Haworth itself, and it is hoped that renewed interest in the story of the Brontes will keep visitors coming back to the Bronte Country area for years to come.
[News item posted by Eagle Intermedia - January 2017.]
---
Bronte Country is designed, maintained and promoted by Eagle Intermedia Publishing Ltd.