Brontes star again at Bradford Literature Festival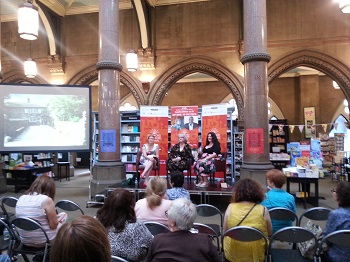 Now an established annual event on the national literature festival, the Bradford Literature Festival usually includes sessions dedicated to the Brontes and their connections with the local area - and 2018 has been no exception!
On the evening of 6th July 2018 there was a special session entitled "The Brontes at Ponden Hall" which was held in the appropriate setting of the Wool Exchange (which is now a bookstore) in the centre of Bradford (pictured above).
Julie Ackhurst (the owner of Ponden Hall) and the author Rowan Coleman discussed the history of this historic building near Stanbury and its connections with the Brontes. Ponden Hall was of course well known by the Bronte family and is believed to have been the inspiration for "Ferndean Manor" in Jane Eyre as well as perhaps some of Wuthering Heights as well.
At another event entitled "The Bronte Sisters: Meet the Writers" authors Carol Ann Duffy, Jackie Kaye and Jeanette Winterson presented readings of their specially commissioned works for a new "Bronte Stones" project, and (as in previous years) there was also a "Bronte Heritage Tour" guided by T.V. presenter Christa Ackroyd.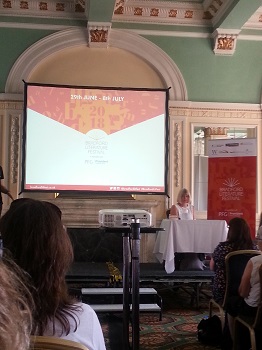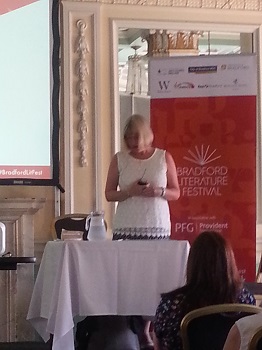 Other Bronte themed events at the 2018 festival included "Emily Bronte: A Life" with Bronte scholar Juliet Barker (pictured above), "In Search of Heathcliffe" with Michael Stewart and Louise Doughty and "Anne and I" with Jackie Kay.
[News item posted by Eagle Intermedia - July 2018.]
---
Bronte Country is designed, maintained and promoted by Eagle Intermedia Publishing Ltd.