Haworth parsonage recreated on Bronte moors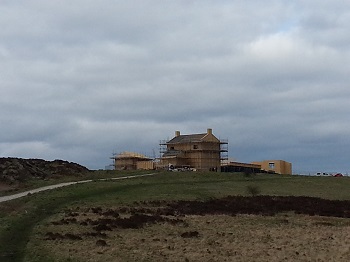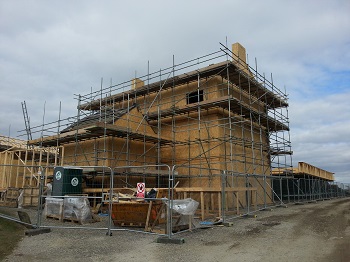 A prominent new structure - albeit a temporary one - has recently (April 2016) "sprung up" on the Bronte moors near Haworth.
The wooden framed building is being constructed on Penistone Hill, and once completed will serve as a replica of the Haworth parsonage for the filming of a new BBC drama about the Brontes called "To Walk Invisible".
The original parsonage itself has of course been used in countless dramas and documentaries about the Brontes, but the new structure is intended to recreate the building as it was when they lived there - changes having been made to the original parsonage since the 1840s (when "To Walk Invisible" is set). Moreover, the new structure's open location is believed to reflect the building's situation with the moors as a backdrop, before the present trees grew up around the parsonage and the churchyard at the end of the village.
"To Walk Invisible" has been written by local playwright Sally Wainwright, who is of course famous for the TV dramas "Happy Valley" and "Last Tango in Halifax" (both of which were also set and filmed in the Bronte Country area). Most of the location filming has been scheduled to take place in early June 2016, and should be broadcast in December.
Although the new building has been called a "monstrosity" by some residents it is only a temporary structure, and should be dismantled once filming is complete. In the meantime, however, the "new" parsonage is yet another Bronte related attraction which can be seen by visitors to the area (although the building itself will not be open to the public) and the film itself will no doubt generate even more interest in the Brontes at the time of the five year "Bronte 200" anniversary celebrations.
[N.B. Please mention the Eagle Intermedia Bronte Country website when making your enquiries.]
[News item posted by Eagle Intermedia - April 2016.]
---
Bronte Country is designed, maintained and promoted by Eagle Intermedia Publishing Ltd.