Accordion extravaganza goes "Around the World in 80 Minutes" for Manorlands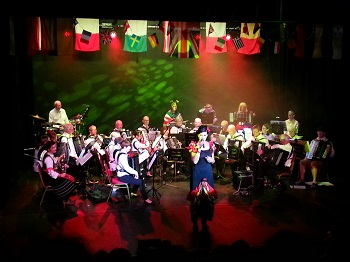 Saturday 29th September 2018 saw fans gather for the Bradford Accordion Band's annual Grand Charity Show in Bingley - this year's event raising funds for the Manorlands hospice in Oxenhope.
This year's extravaganza was themed "Around the World in 80 Minutes" and featured accordingly (or should that be "accordionly"?) music and acts from Great Britain, Europe and beyond. These included Grand Charity Show regulars Bazzmataz from Halifax, Gordon "Piper" Laycock on the Scottish bagpipes, the Otley Ukulele Orchestra from Otley and the Sisters of Serbia.
With raffle prizes donated by the Shama Restaurant in Bingley, Threshfield Catering Supplies, the Loft in Bingley and the Cake 'Ole in Keighley the event was a virtual sell-out - raising much needed funds for Manorlands.
Skilfully compèred by musical director Anita Basic the event was an international spectacular - and once again so much more than your average accordion concert!
[News item posted by Eagle Intermedia October 2018.]
[N.B. Please mention the Eagle Intermedia Bronte Country website when making your enquiries.]
---
Bronte Country is designed and maintained by Eagle Intermedia Publishing Ltd.