Cycling in Bronte Country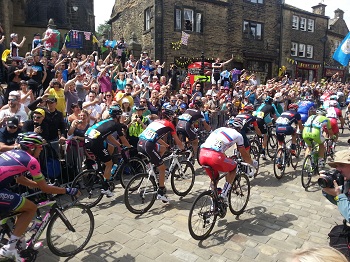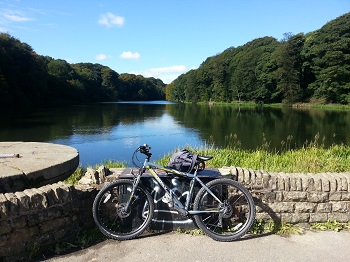 With its varied terrain and challeging ascents the Bronte Country area of West Yorkshire and East Lancashire is popular with road cyclists and mountain bikers alike.
Relatively easy recreational cycle routes include the Great Northern Trail (a disused railway line which is now in use as a cycle route and public bridleway) and the towpath of the Leeds Liverpool canal between Shipley and Keighley.
In July 2014 the region hosted the Grand Depart of the Tour de France (pictured above in Haworth village) followed by the inaugural Tour de Yorkshire in May 2015, bringing recognition of cycling in the Bronte Country area and Yorkshire to the international level..
Other Bronte Country and Yorkshire cycling and mountain biking websites
FEATURED LISTING:
For more information about cycling in Bronte Country and the wider Yorkshire region the following (external) websites may also be of interest:
For more general information about cycling please visit the Eagle Intermedia cycling links page.
[N.B. Please mention the Eagle Intermedia Bronte Country website when making your enquiries.]
IMPORTANT: Please note that links may refer to web pages which are maintained elsewhere (i.e. not on the Bronte Country site). The information on establishments and other products listed on these external sites (as well as those included on this Bronte Country site) may be supplied by external third parties whose products and services are independent of, and not necessarily endorsed by Eagle Intermedia Publishing Ltd. Please read the copyright notice and disclaimer for further details.
---
Bronte Country is designed, maintained and promoted by Eagle Intermedia Publishing Ltd.