Multiple floods hit Bronte Country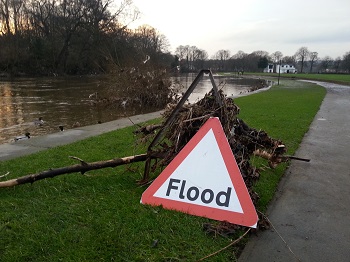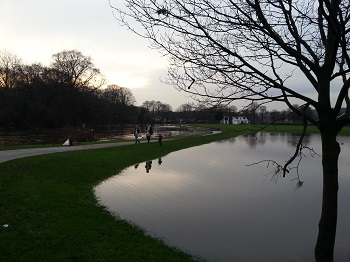 Aftermath of flooding in Robert's Park, Saltaire
Over the course of the Christmas weekend of 26th - 27th December 2015 very high levels of rainfall from "Storm Eva" led to serious and unprecidented levels of flooding in various different parts of the Bronte Country area.
Towns and villages which were badly affected included Haworth, Hebden Bridge and Mytholmroyd in Calderdale, Whalley and Ribcester in the Ribble Valley, and Keighley, Saltaire and Shipley in the Aire Valley, amongst others.
There was also serious flooding in the cities of Leeds and Manchester, - as well as York over to the east in the Vale of York.
The flooding came only weeks after "Storm Desmond" - which led to similar levels of serious flooding in the Lake District and Carlisle with a spectacular waterfall issuing over the precipice of Malham Cove for the first time in recent history.
The Christmas 2015 "Storm Eva" floods in the Bronte Country area were no less dramatic, with many commentators saying that they are to date the worst in living memory. Despite the life threatening nature of the flooding there were mercifully no fatalities, thanks in a large part to the response of the emergency services.
The immediate aftermath saw locals banding together to help with the cleanup with many various initiatives and appeals being set up to provide flood relief throughout the region, including e.g. the Calderdale Flood Relief Appeal set up by the Community Foundation for Calderdale in Calderdale - along with others too !
For more information please visit the following (externally maintained) news pages:
IMPORTANT: Links may refer to external websites whose content, products and/or services are not necessarily recommended or endorsed by Eagle Intermedia.
[N.B. Please mention the Eagle Intermedia Bronte Country website when making your enquiries.]
[News item posted by Eagle Intermedia December 2015.]
---
Bronte Country is designed and maintained by Eagle Intermedia Publishing Ltd.