Walking in Bronte Country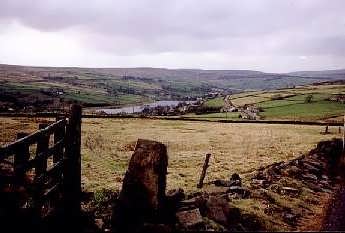 With its wild Pennine moors and deep valleys the Bronte Country area of West Yorkshire and East Lancashire is popular with walkers and ramblers who come to explore the varied terrain which can be found here.
The Pennine Way long distance footpath passes through the area, as does the Bronte Way, the Bradford Millennium Footpath and the Great Northern Trail.
A particularly popular excursion for Bronte enthusiasts is the walk to Top Withens starting from Stanbury, Haworth or Penistone Hill (the latter taking in the sights of the Bronte Waterfall, the Bronte Chair and the Bronte Bridge en route).
Guided walks and tours of the area are also available from various independent operators. Please click here for more information.
For more information about walks and walking in the Bronte Country area as well as other parts of Yorkshire you can visit the following (external) websites and web pages (listed in approximate alphabetical order):
For information about Julia Bradbury's walks and walking in Britain please visit the Outdoor Guide website.
[N.B. Please mention the Eagle Intermedia Bronte Country website when making your enquiries.]
IMPORTANT: Please note that links may refer to websites and web pages which are maintained elsewhere (i.e. not on the Bronte Country website). The information on establishments and other products listed on these external sites (as well as those included on this Bronte Country site) are supplied by external third parties whose products and services are independent of, and not necessarily endorsed by Eagle Intermedia Publishing Ltd.
---
Bronte Country is designed, maintained and promoted by Eagle Intermedia Publishing Ltd.