The Bronte Way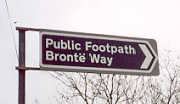 The Bronte Way is a 69km (43 mile) long distance footpath which starts at Oakwell Hall ("Fieldhead" in Charlotte Bronte's novel "Shirley") near Birstall in Kirklees near Bradford, and ends at Gawthorpe Hall in Padiham near Burnley in Lancashire's Pendle Witch Country.
The route winds its way past many places of interest to Bronte enthusiasts, including the Bronte Birthplace in Thornton, Ponden Hall ("Thrushcross Grange" in Emily Bronte's novel "Wuthering Heights"), Wycoller, and of course, the village of Haworth itself. Scenic highlights include Penistone Hill country park, perched on the moors high above Haworth, the trail to the Bronte Waterfall and on over the Bronte Bridge up to Top Withens (a favourite walk of the Brontes themselves - Top Withens being suggested as the contentious location for the eponymous Earnshaw house in "Wuthering Heights"), and Wycoller in the Forest of Trawden at the edge of Pendle Witch Country.
While some of the Bronte Way crosses wild and desolate moorland, civilisation is never far away and there are plenty of pubs and country houses to stop off for a quick pint of ale en route. At a steady pace the walk could take up to a week to complete, but it can be broken into four distinct sections which are all conveniently served by local public transport.
Places which can be visited along the route include the following:
A complete description of the Bronte Way, including historical information and details of eleven circular walks along the main route can be found in the following books:
More books about Bronte Country can be found at the Eagle Intermedia Online Bookstore (Bronte Country section).
---
Bronte Country is designed, maintained and promoted by Eagle Intermedia Publishing Ltd.